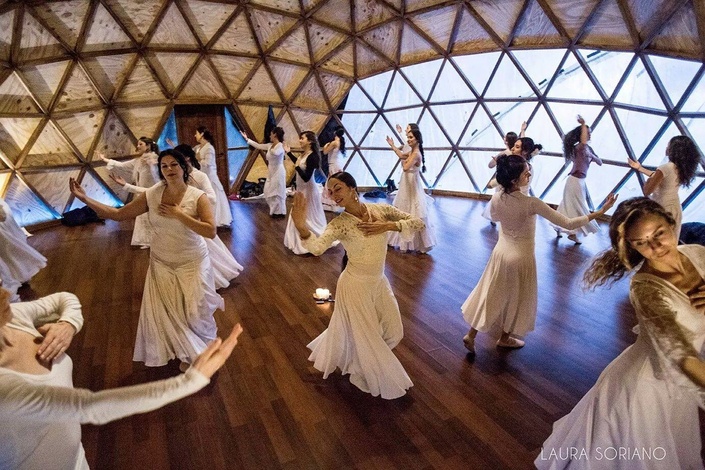 Nava Dance- Technique level 1
Nava dance- Contemporary and devotional movement rooted in Central Asian dance. A twelve class course series focused on the Nava Dance format.
Watch Promo
Enroll in Course
Nava Dance is a contemporary and holistic dance practice developed by Miriam Peretz. Nava Dance draws deep inspiration from Silk Road (Persian & Central Asian) themes and movement aesthetics, as well as from the devotional practice of whirling. Each Nava Dance class incorporates Miriam's signature ritualized warm ups, sequences in the Nava style, as well as the study of traditional Central Asian movements coming from; Persian, Tajik, Uzbek and Afghan dance. In this particular course, Level #1, Nava Dance the focus of combinations will be on various Persian themes in dance, however there are separate courses (continuously) being added that focus on other Central Asian dance styles.
Class always begins with a set of movement rituals aimed at preparing the mind, body and heart for an integrated dance experience. Each session incorporates intensive contemporary inspired warm-ups focusing on spirals in the body, fluidity in the spine, contract/release, and getting the blood flowing. These sequences are Miriam's signature "warm up dances," which many of her students regard as the highlight of classes. Classes also integrate numerous styles of dynamic turns essential to all Central Asian dance forms. Drawing on her background as a percussionist, musicality is also a core component to Miriam's teaching style.

Building sisterhood is at the heart of the Nava Dance philosophy and classes are structured to foster a strong sense of community and supportive nurturing energy amongst students. Each class is a journey through the physical, spiritual and emotional realms of being, and a call to open our hearts to one another and to the universe.
Nava is a beautiful example of a word shared by the Hebrew, Farsi, and Turkish languages. In Farsi and Turkish Nava means sound or tune. It is also the name of one the main Dastgah (musical modes) in the Persian and Turkish music traditions. In the Hebrew language, Nava means pleasant, graceful, beautiful and is a common girls' name. Also, in Hindi, Nava means young or new.

"In training with Miriam, I not only gain skill and strength--I heal. I nourish my heart and I broaden my family of dance sisters." -Ronnie Brodsky

Nava Dance online school offers students around the world an opportunity to take part in Miriam's unique dance offerings. In this yearlong course, there are twelve total classes (one per month.) The general focus of the course is on Miriam's signature format, Nava Dance and does not focus on traditional Central Asian forms. Each month's lesson is broken down into short sequences that focus on various themes. Each sequence is first broken down slowly, with detailed instruction and then danced full speed with music. The curriculum includes- Opening circle intentions and warm ups, Miriam's signature "warm up dances," technique for Central Asian arms, short combinations and phrases. Combinations will range from more neo-classical Persian dance, to more contemporary and expressive forms. There is also significant focus on musicality, understanding various rhythms and Persian music theory. Also integral to each class is focus on the art of turning. Each month new material will be shared, as a new "class," however all previous classes will still be available in one's archive as long as a student remains enrolled . If a student chooses to cancel a subscription and restart at a later date, unfortunately the school will start again from the beginning. If a student has a very busy month, and isn't able to get to the new class material, they don't need to worry because that material remains in the archive and one can always go back to it at another point.
*Also please note that once you cancel your subscription you will no longer have access to the classes.

*It is the students responsibility to cancel membership through the web site. After 12 months the classes do not automatically end, but continue to be accessed until a student cancels their membership.

Your Instructor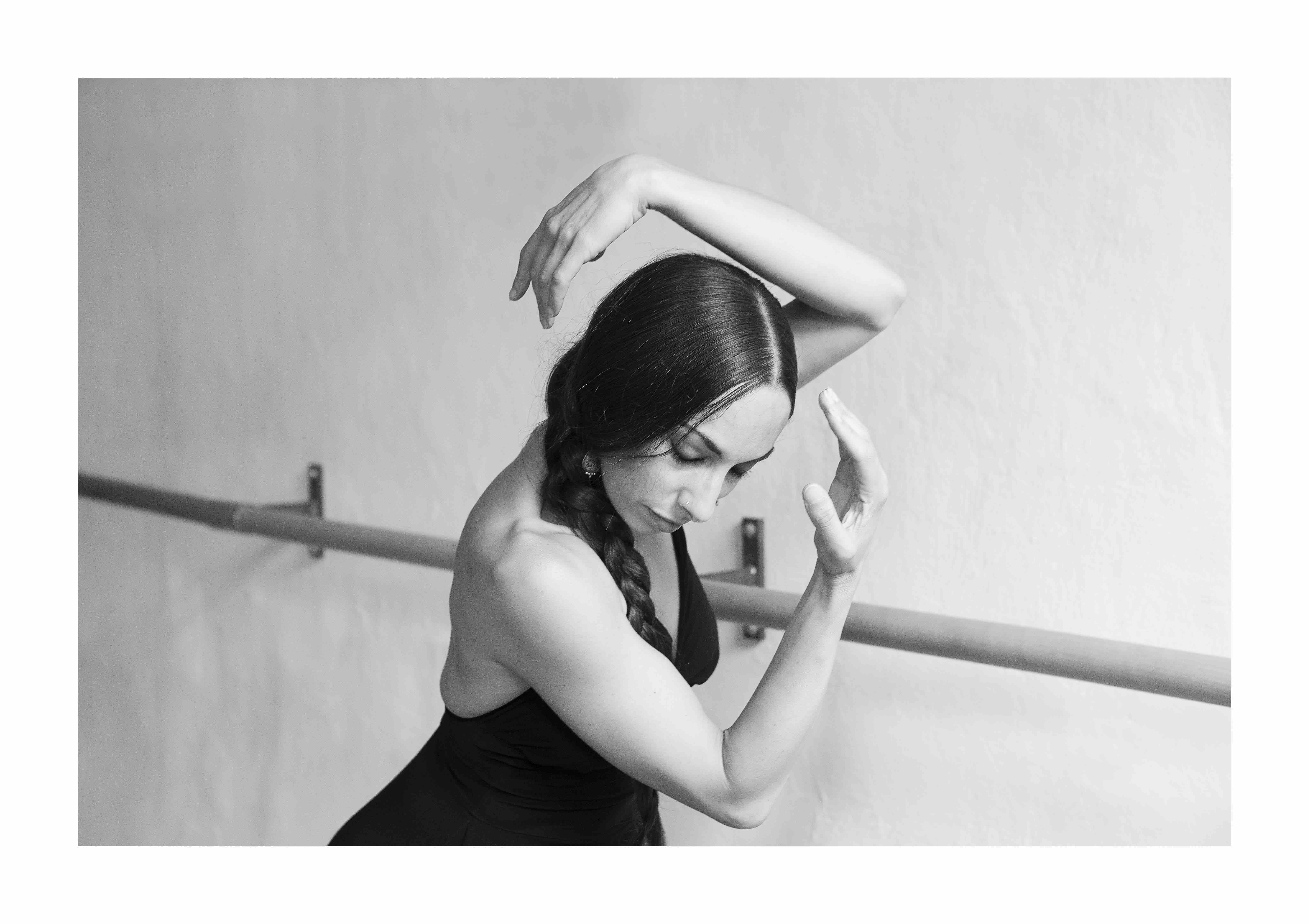 Miriam Peretz is an internationally celebrated dance instructor and performer. Over the past twenty years, her signature dance style has spread across continents through her international dance collective Nava, and through the intensive trainings she offers worldwide. Miriam's format draws heavily on sacred dance and ritual from around the world, Central Asian dance and devotional whirling practices. Her movement quality and aesthetics also incorporate her years of martial arts training, contemporary dance, Flamenco, and many other world dance forms. Miriam weaves spirituality and devotion into every dance session, drawing on her personal practice as a dervish and background as a child of mystics. Her classes are infused with group rituals that help students find the deeper meaning and significance of the movements and dances. The rituals also nurture a sense of inclusivity and community, often creating deep connections among dancers. Regarded as a weekly ritual by her students, Miriam's classes offer a fully integrated experience and healing journey through the terrain of the body, heart, mind and spirit.
For more about Miriam's work go to- www.miriamdance.com
Frequently Asked Questions
When does the course start and finish?
The course starts now (upon payment completion) and finishes whenever you want. You can cancel your subscription at any point in time. Please note that you must take responsibility to cancel your subscription if you choose to dis-continue. If you do not cancel, your credit card will continue to be charged a monthly fee. There is no one time/one month purchase option for this course. New material will be shared monthly. It is a completely self-paced online course - you decide when you start and when you finish. However please note that the full length is intended to be one year, as there are a total of 12 classes (released over a period of 12 months.)
How long do I have access to the course?
Upon enrolling, you have access to the first class for 30 days - across any and all devices you own. After the 30 days you will receive a new class, however past lessons will be stored in your archive for later unlimited review as long as you remain enrolled in the course. When you choose to cancel your subscription, you do lose access to the videos. The idea is that after one year of working with the course you will fully retain and embody the material taught.
Am I getting the same value as a regular student?
Yes! The online school is designed to offer students unable to attend weekly classes, access to the same material. Therefore it is priced equally to regular monthly classes.
What is the level of the course?
It is hard to specify the level, as a dancer might be advanced in a certain genre of dance, but totally new to Central Asian dance and Miriam's unique style. The level is aimed for beginner and intermediate level dancers as significant breakdown of each sequence is offered. However many advanced dancers also find a lot to gain from this course.
Can I put a hold/freeze on my account if needed?
Unfortunately the online system does not have a possibility for holding or freezing your account. If you are experiencing a busy time in your life and would like to cancel but resume again in the future, unfortunately you will be placed at the beginning of the course again upon re-entry. So, I suggest continuing subscription and then as soon as there is more time in your schedule go back and make up the classes/material that you didn't get to. This will be more efficient in the long run.
Dearest Students,

In honor of my lifelong dedication in crafting my own dance curriculum and methodology, I ask that you do not share your membership, or plagiarize my work. Please credit me and the form Nava Dance if you will borrow directly from what you learn. Thank you for your honesty and support.
In gratitude,

Miriam